🇬🇧 Focus E-learning : "Awareness of quality concepts" designed by GIFAS and EURO-SYMBIOSE
22 January 2021

Posted by:

Maélise ROBERT

Category:

Actuality

,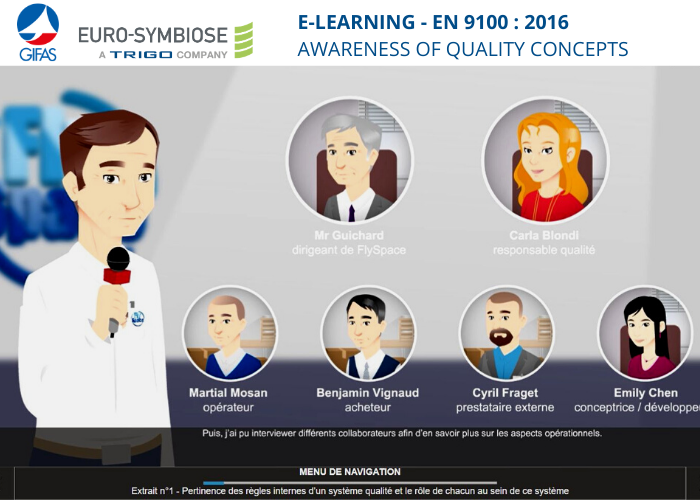 This E-learning module to raise awareness of the effectiveness of the quality management system had been designed in partnership with GIFAS and with numerous contributors (QUALIFAS – THALES SYSTEMES AEROPORTES – DAHER AEROSPACE – AIRBUS – DASSAULT AVIATION – MBDA – THALES GROUP – AUBERT & DUVAL) on the occasion of the release of the new EN 9100: 2016 standard.
This module of approximately 45 minutes is intended for all audiences, including your temporary employees or service providers. Its objective is to raise awareness of the role and contribution of everyone within the QMS by focusing on :
– The added value of the process approach and the risk approach;
– The importance of applying the rules built in particular to avoid the risks to be controlled and to alert in case of impossibility to respect them in order to guarantee the conformity and safety of the products;
– The usefulness of reporting malfunctions and contributing to the improvement of practices and their cross-functionality.
This program is an available response to the requirements of EN9100: 2016 contained in the "Leadership" clauses (clause 5.1.1d and f) :
"Management must demonstrate leadership and commitment to the quality management system by :
… d) promoting the use of the process approach and the risk approach ;
… (f) communicating the importance of having an effective quality management system and of complying with the requirements of that system;
and "Awareness" (clause 7.3) and in particular the ASD specifics of this clause (lines e to h) :
"The organization shall ensure that persons performing work under the control of the organization are made aware of the following :
(a) the quality policy ;
(b) the relevant quality objectives ;
(c) the importance of their contribution to the effectiveness of the quality management system, including the benefits of improved performance;
(d) the consequences of non-compliance with the requirements of the quality management system;
(e) the documented quality management system information concerning them and its evolution;
(f) their contribution to the conformity of the product or service;
(g) their contribution to product safety;
h) the importance of ethical behaviour."
This E-learning is available in French and in English :
– by subscription to the services of the EURO-SYMBIOSE E-learning platform;
– by exporting the sources on your own E-learning platform for a permanent and universal access for all your staff.
Contact : Maelise Robert – 02 51 13 95 26