FORMATION
MLA – project management in the German automotive industry according to VDA (Maturity Level Assurance for new parts) – #933

Training in partnership with the VDA-QMC
About Instructor

Valérie LE COUËDIC
Speciality: EURO-SYMBIOSE consultant since 2001, Valérie masters both automotive and aeronautical standards. Technical contact for the VDA-QMC.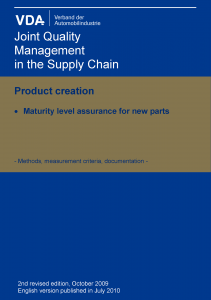 The Maturity Level Assurance for New Parts guide is included.
Formation type
Open or in-house training session
Realisation modality
Onsite (Open : lunch included) or remote sessions.
Validation
Official VDA QMC certificate of qualification
Number of participants
Minimum : 4
Maximum : 12
Discounts
Register several trainees for our Open training sessions and benefit from our special offers
-20%
discount for the 2nd participant
-50%
for the 3rd and each additional participant
For registrations to the same training session.
Registration training
OPEN TRAINING SESSION
IN-HOUSE TRAINING SESSION
05 December 2022
3 remaining places
Remove
03, 2023
9 remaining places
Remotely on April
To obtain a quote for an in-house training :