🇬🇧 It's new ! EURO-SYMBIOSE offers you, in Morocco, the Global MMOG/LE logistics assessment training approved by the VDA-QMC
25 September 2020

Posted by:

Maélise ROBERT

Category:

Actuality

,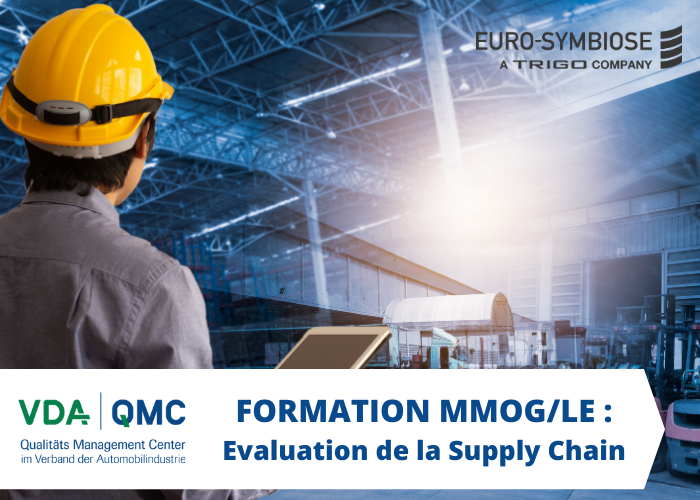 Writing: Maelise Robert, communications officer and Milène Peter, EURO-SYMBIOSE consultant trainer
The Global MMOG / LE tool : history and purpose
The Global MMOG / LE tool (Global Materials Management Operations Guidelines / Logistics Evaluation) is the result of collaboration between the working groups of the organization "Odette[1] International Limited" and the association "Automotive Industry Action Group[2]" (AIAG). Its first version was published in 2004. MMOG / LE is derived from the Odette Logistics Assessment (OLE) and the Global Materials Management Operations Guidelines of the AIAG, all two originally published in 1999.
The Global MMOG / LE repository has become a global standard that brings together industry best practices for supply chain processes in the automotive industry. It is a unique self-assessment and continuous improvement tool to assess the performance of the supply chain of each partner:
Indeed, car manufacturers can use MMOG / LE to assess their suppliers (around 2 days of audit) or require their suppliers to self-assess. Suppliers may also require this assessment from their own providers. Therefore, the entire supply chain is concerned !
EURO-SYMBIOSE training
Thanks to the EURO-SYMBIOSE training approved by the VDA-QMC, participants will learn the requirements of this standard and will be able to set up a self-assessment of their own logistics. This training is intended for the Logistics and Purchasing teams of automotive suppliers in Morocco (online or face-to-face training).
The program details the evaluation criteria in 6 chapters:
Strategy and improvement
Work organization
Capacity and production planning
Customer interface
Production and product control
Supplier interface
A demanding standard :
It is made-up of 187 criteria which allow  to carry out an inventory :
– 43 so-called "very critical" criteria where the supplier must obtain a score of 100%.
– 79 so-called "critical" criteria where the supplier may not comply with a maximum of 9 criteria.
– 65 criteria known as "points for improvement / recommendations".
Please note : Since version 5, you must use the web platform which was developed by Odette (MMOG.np), replacing the Excel tool. EURO-SYMBIOSE trains participants in the use of this tool.
Among the car manufacturers that require this self-assessment, we can quote  : Chrysler, Ford, PSA Peugeot Citroën, Renault, Volvo.
Note that this self-assessment is not required by all car manufacturers, but it is essential if you want to set yourself apart from your competitors by demonstrating the performance, quality and reliability of your supply chain. We recommend that you do it at regular intervals.
The EURO-SYMBIOSE asset : to be sure of successfully completing your self-assessment, complete your initial training with a EURO-SYMBIOSE consulting service. Contact us on 02 51 13 13 00 or on service.clients@euro-symbiose.fr
[1] Odette was created in 1984. Odette is a pan-European collaboration and services platform working for the entire automotive network. They bring together supply chain professionals and technology experts to create standards, develop best practice and provide services which support logistics management, e-business communications and engineering data exchange throughout the world. Their mission is to improve the efficiency and enhance the competitiveness of the European automotive industry within the global economy.
[2] The Automotive Industry Action Group (AIAG) is a unique not-for-profit organization, created in 1982,  where OEMs, suppliers, service providers, government entities, and individuals in academia have worked collaboratively for more than 38 years to drive down costs and complexity from the automotive supply chain. AIAG membership includes leading global manufacturers, parts suppliers, and service providers.